ASUS ROG Phone 5 12GB/256GB variant sale live on Flipkart
ASUS ROG Phone 5 12GB/256GB variant sale live on Flipkart. After a few weeks since the ROG Phone 5 base variant that is 8GB/128GB went live on Sale. The higher variant of ROG Phone 5 is now available for customers. There is no major difference apart from RAM and Storage but it's always good to have extra RAM and Storage for the long term.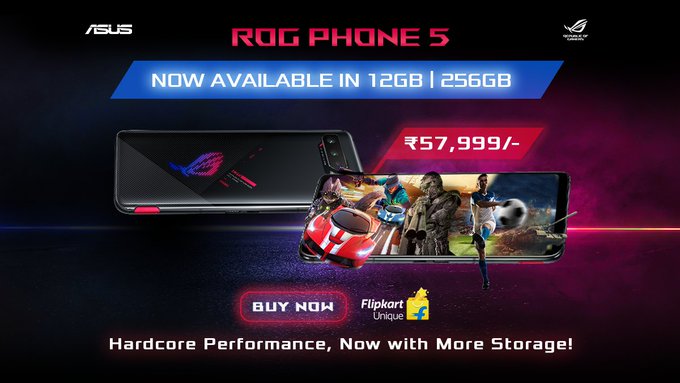 ASUS shared the concern of the stock issue and now it is available. There were a lot of customers who were waiting for the higher variant. There are Pro and Ultimate models which are still awaited and we may see them soon. Battlegrounds Mobile India (PUBG Mobile) is just around the corner and I feel ROG Phone 5 is the best gaming phone available right now. There are a lot of testing AAA games that ROG Phone can handle easily.
For many users who are in need of a Flagship phone, I feel ROG Phone 5 provides more than just gaming. It's an all-round flagship and provides a better experience at a spectacular price.
If you were waiting for this, visit Flipkart now:
I will be making ROG Phone 5 long-term review. ASUS has also recently released tons of software updates with new features, optimization, fixed, and more.
Quick Read: