Xiaomi Mi 11 won't come with in box charger, CEO confirms
Xiaomi Mi 11 won't come with in box charger, CEO confirms. First, it was the 3.5mm jack, many companies don't provide earphones and now the most important thing the Charger. Smartphone tech giants can, again and again, market things and say whatever they want. Customers are here to say not the companies.
As reported by GSMArena, Xiaomi Mi 11 won't be coming with an in-box charger and the same has been confirmed by its CEO. Lei Jun, also confirms that it's an environment-friendly move the same as what a few months back Apple has to say. Companies like Xiaomi and Samsung were Quick to mock Apple iPhone 12 2020 series.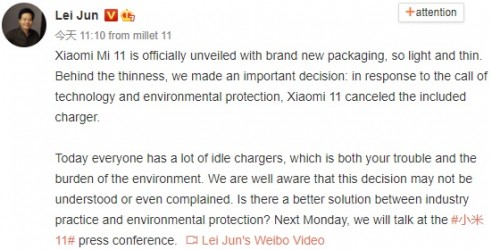 The Phone's box will be slimmer and lighter just like the iPhone 12. Other features of the Mi 11 written on it: 108MP camera, Super AMOLED screen, HDR10+ certification, and audio tuning by Harman Kardon.
Xiaomi a few months back also launched Apple iPhone 12 compatible 20W fast charger. This is taken ahead by Xiaomi's ecological chain company ZMI
This has been a trend of all the Android Smartphone makers. Everyone wants to mock Apple just to get some short time fame and marketing. In reality, everyone wants to follow Apple. Whether it's a Notch design, removing headphone Jack, now charger, and many more to follow.
For any help & suggestions stay connected to our official channels. We bring tech news, How-to articles & many more in the simplest possible way. Follow us on Facebook & Twitter. Stay Connected.