Apple held its WWDC like every year & this year the rumours were quite accurate. Starting of with the most awaited dark mode here is the complete rundown & highlights of WWDC 2019.
iOS 13
iOS Introduces Dark Mode, Advanced Photo and Camera Features, Sign In with Apple and an All-New Maps Experience.
Apple previewed iOS 13, introducing a dramatic new look for iPhone with Dark Mode and new ways to browse and edit photos, sign in to apps and websites, and navigate the world with an all-new map. iOS 13 is faster and more responsive with optimizations across the system that improve app launch, reduce app download sizes and make Face ID even faster.
iOS 13 brings new capabilities to the apps you use every day, with rich updates to Photos and Maps, and privacy-protecting features like Sign In with Apple, all while delivering faster performance," said Craig Federighi, Apple's senior vice president of Software Engineering. "We're excited for customers to experience what's coming to iPhone this fall and can't wait for them to see how great everything looks in Dark Mode.
There is a lot of improvemet coming to Apple Maps with new looks & features, also the new security feature from Apple makes your device more secure.
iPad OS
New Home Screen, Powerful Multitasking, New Ways to Use Apple Pencil and More
Apple previewed iPadOS, the powerful operating system with a new name to recognise the distinctive experience of iPad. iPadOS builds on the same foundation as iOS, adding powerful new capabilities and intuitive features specific to the large display and versatility of iPad. Introducing new ways to work with apps in multiple windows, more information at a glance on a redesigned Home screen and more natural ways to use Apple Pencil, iPadOS also benefits from the great new updates in iOS 13, making it the perfect device for consumers and creative pros alike.
iPad transforms how people work and express their creativity, and with iPadOS, we're taking it even further by delivering exciting capabilities that take advantage of its large canvas and versatility," said Craig Federighi, Apple's senior vice president of Software Engineering. "iPadOS delivers exciting features, including a new Home screen with widgets, more powerful multitasking and new tools that make using Apple Pencil even more natural.
Mac Pro
Apple unveils powerful, all-new Mac Pro and groundbreaking Pro Display XDR
Apple introduced the all-new Mac Pro, a completely redesigned, breakthrough workstation for pros who push the limits of what a Mac can do, and unveiled Apple Pro Display XDR, the world's best pro display. Designed for maximum performance, expansion and configurability, the all-new Mac Pro features workstation-class Xeon processors up to 28 cores, a high-performance memory system with a massive 1.5TB capacity, eight PCIe expansion slots and a graphics architecture featuring the world's most powerful graphics card. It also introduces Apple Afterburner, a game-changing accelerator card that enables playback of three streams of 8K ProRes RAW video simultaneously.
Pro Display XDR features a massive 32-inch Retina 6K display with gorgeous P3 wide and 10-bit colour, an extreme 1,600 nits of peak brightness, an incredible 1,000,000:1 contrast ratio and a superwide viewing angle, all at a breakthrough price point. Together, the new Mac Pro and Pro Display XDR are the most powerful tools Apple has ever put in the hands of pro customers and will change pro workflows forever.
MacOS Catalina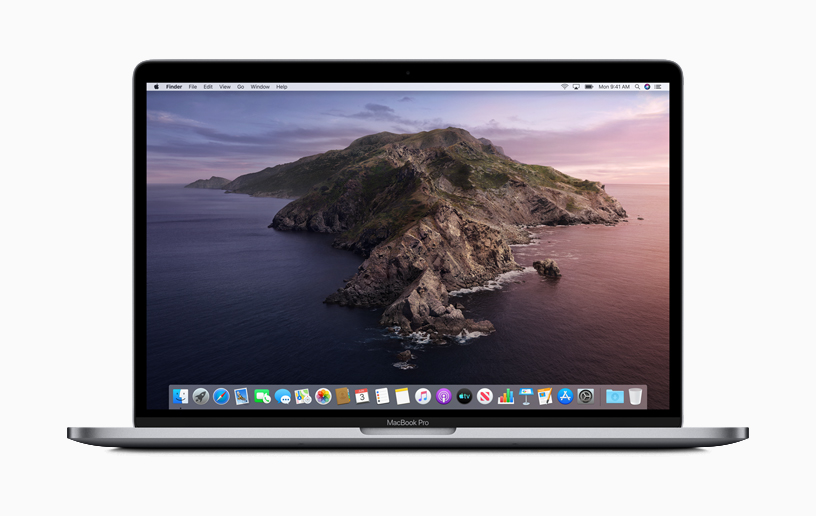 Apple previews macOS Catalina
Apple previewed macOS Catalina, the latest version of the world's most advanced desktop operating system, packed with cool new features, fresh new apps and powerful new technology for developers. With macOS Catalina, Apple is replacing iTunes with its popular entertainment apps — Apple Music, Apple Podcasts and the Apple TV app. The all-new Sidecar feature enables users to extend their Mac desktop by using their iPad as a second display or as a high-precision input device across creative Mac apps. New security features keep users better protected and Voice Control lets users control their Mac entirely with their voice.
With macOS Catalina, we're bringing fresh new apps to the Mac, starting with new standalone versions of Apple Music, Apple Podcasts and the Apple TV app," said Craig Federighi, Apple's senior vice president of Software Engineering. "Users will appreciate how they can expand their workspace with Sidecar, enabling new ways of interacting with Mac apps using iPad and Apple Pencil. And with new developer technologies, users will see more great third-party apps arrive on the Mac this fall.
There were way too much details this year to other Apple products & services such as Apple watchOS 6, Apple tvOS & more. Catch in detail info at Apple Newsroom.
After so many years of waiting finally Dark Mode is here the most awaited feature at least for me, Mac Pro is now more powerful than ever, iPad is getting more usability. What's your favorite announcement from this year's WWDC? Let us know in the comments below also do follow us & engage with us on our social channels Facebook & Twitter. Stay Connected.